COVID-19 News
Disinfecting, Coronavirus Assistance, CERTEK Mobile Decontamination Chamber, Isolation
Our products assist you in your research and cleaning efforts to help eliminate the COVID-19 virus.
We provide products to use for disinfecting of spaces by using CERTEK 500, an EPA-registered disinfectant. This disinfectant is approved to disinfect surfaces for known pathogens to include COVID-19 (SARS-CoV-2 ). The CERTEK 500 disinfectant is EPA approved, non-toxic and eco-friendly. And, a BIG plus for parents and the entire family, it is child and pet safe.

With a DFK kit and training from CERTEK, following proper protocols and disinfecting methods, you can be CERTEKsafe!
In the CERTEK training for the DFK kit a Validation Process is explained that when followed, you can easily perform your own validated disinfecting applications.
The CERTEK 500 disinfectant, training, step-by-step guide, and other items required for a complete disinfecting application are included in the 'DFK' kit. Take me to this page NOW!
The world is an uncertain place and crisis can rise almost overnight. This is the reason that we at CERTEK believe that we have been strategically placed in the world public health sector to rise in the face of uncertainty.
We are diligently monitoring and educating ourselves about the global COVID-19 emergency and know that we have a lot to offer in assisting with this pandemic.
If a proper and verified design for the safety of your researchers is a must, give us your trust. We are ready to help you with your research and diagnostics!
CERTEK Decontamination Chamber (CMDC)
The CERTEK Mobile Decontamination Chamber (CMDC) is manufactured in one-trip shipping containers. The above image is from the inside of a particular model that has a decontamination space of 199 square feet (18.48 sq.m.) for decontaminating N95 masks and other equipment. The actual dimensions of the space are 6' 11 1/4" (2.1 m) wide by 33' 8 1/8" (10.3 m) deep. The ceiling height is 7' 4" (2.23 m).
Inside the double doors of the container is the End Service Space to house the VHP decontamination unit on a cart, electrical panel and some control devices. The panel can be fed from an outside source by utilizing a receptacle at the bottom of the panel with a matching plug provided. A four foot (4' or 1.22 m) wide service door allows easy entrance of carts, equipment, and personnel into the decontamination room. This End Service Space includes one (1) LED fixture to provide adequate lighting and one (1) duplex convenience outlet.
Inside the decontamination room there are four (4) injection ports for model CMDC-4720-40, spaced inside the room to ensure overall VHP exposure. A ductless mini-split air condition and heat system is provided with two (2) evaporator AHU units inside the room. The condenser is located on the exterior of the container mounted high at the truck end. At the end of the room low on the wall at each corner are two (2) exhaust fans with dampers to an exterior duct system. A dehumidifier is also provided in the room. A quad outlet is located in the middle of a side wall of the decontamination space. LED fixtures provide adequate lighting in the room.
Model #: CMDC-4720-20 - A 20' mobile unit with 99 square feet (9.19 sq. m.) of decontamination space.
Model #: CMDC-4720-40 - A 40' mobile unit with 199 square feet (18.48 sq. m.) of decontamination space.
Model #: CMDC-4720-53 - A 53' mobile unit with 263 square feet (24.35 sq. m.) of decontamination space.
Click Here to visit this page.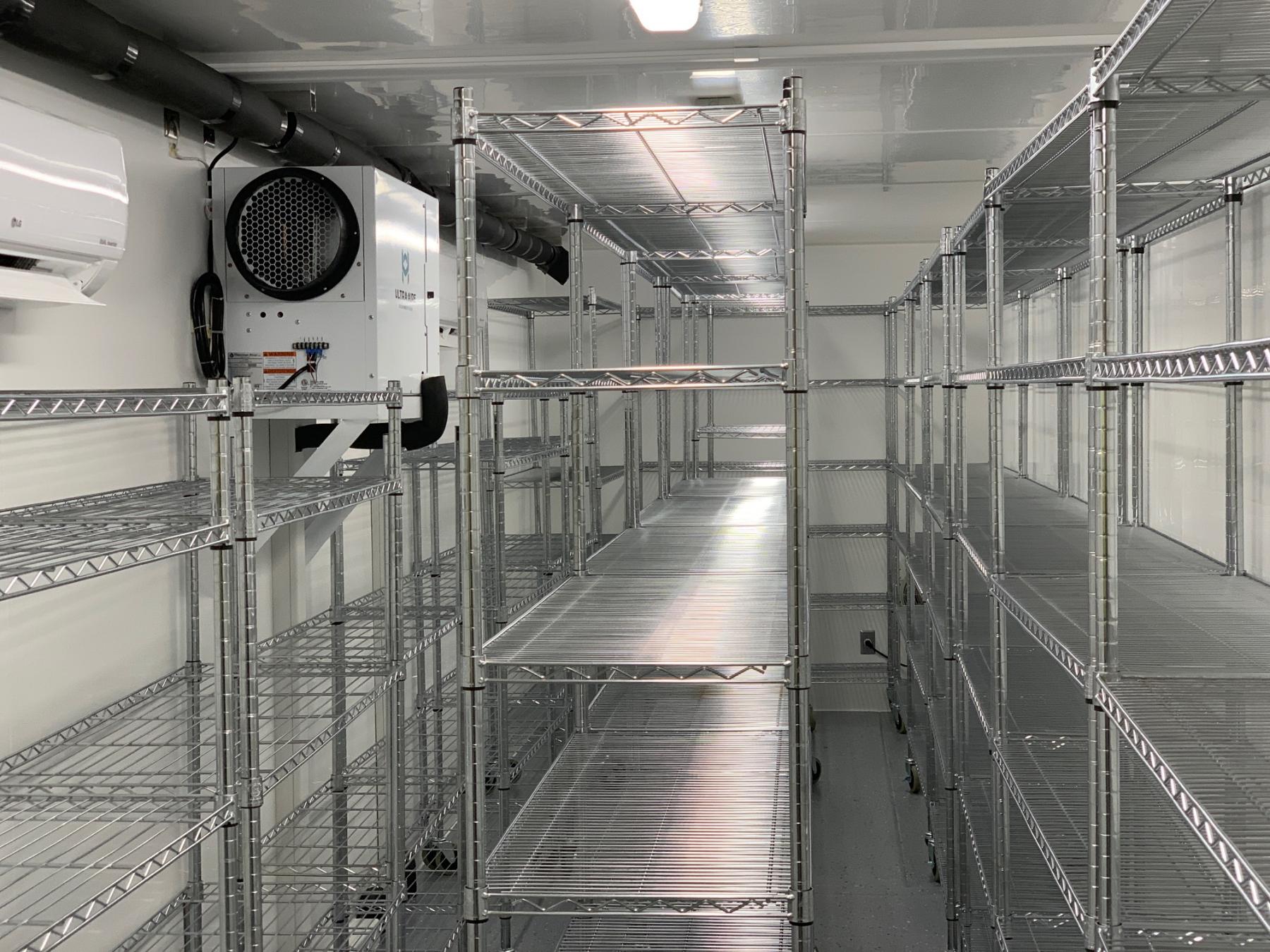 Isolation
Container Rooms and Pure-Air Systems
CERTEK is proud to provide isolation solutions in the form of Container Rooms and Pure-Air Systems. CERTEK's Isolation Rooms offer screening and holding areas in the form of 20' to 40' containers that maintain a negative pressure when used in conjunction with CERTEK's Pure-Air HC System. The Pure-Air HC System is necessary for a complete Container Room solution and is also available for an exterior application. The Pure-Air HC System provides heating and cooling.
If you already have an existing conditioned space that you would like to use as an isolation area, CERTEK's Pure-Air ES System is an excellent solution for transforming your current space. The easy installation of this system offers a quick and cost-effective solution for emergency situations. The system is delivered on a skid for easy transport with drawings and instructions showing how to connect flexible duct to existing supply and return/exhaust ducted systems in existing conditioned spaces.
Shipping, installation, and maintenance plans are available options upon request.
Click Here to visit this page.