Pass-Through Cabinets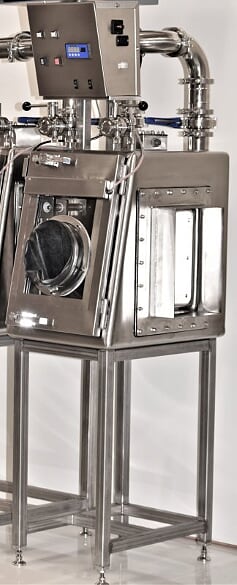 Pass-Through Cabinets
Product Description:
The Pass-Through Cabinet is constructed within accordance for this type of equipment as defined in the U.S. Centers for Disease Control/National Institutes of Health publication Biosafety in Microbiological and Biomedical Laboratories, 5th edition (BMBL).
The pass-through atmosphere is maintained at a negative operating static pressure typically between -0.5" WG - 1.5" WG with an inlet air velocity into the open port of 125 +/- 25 linear ft/min with 10 atmosphere changes per hour that is a once-through airflow system.
The air supply system for the pass through is a ducted inlet with HEPA filter (active supply).
The pass-through may be mounted on a stand or a working surface with the working viewing angle of 10%.
Features:
Constructed of 316L stainless steel material with a #4 finish.
Rounded corners with a minimum 15.875 mm (5/8") inside radius to allow easy cleaning and decontamination.
The inside of the cabinet bottom is flat.
Air monitoring ports.
Decontamination ports.
HEPA filter aerosol challenge ports.
Filter system will be mounted on top of the cabinet.
Both return and inlet is filtered. Filters are of a CERTEK design and supplied by CERTEK. Inlet and outlet will have dampening valves.
Neoprene gaskets in the 35 to 45-durometer hardness range.
Internal opening door on each side and one in the rear with cam lock closures only accessible from the inside.
Front viewing window in the external front door with a 10% angle. The window will be constructed of 9.525 mm (3/8") thick polycarbonate with a chemical resistance coating.
One (1) 815 mm (32") glove port with the glove constructed of Butyl or Hypalon material with a stainless steel entry port is optional (for an additional charge).
No electrical port (receptacle outlet) will be provided.
Externally mounted LED electrical lighting will be mounted at the top of the glass along the length of the front viewing area of the door for ease of maintenance.
Electrical requirements based on client's needs. (110-240 Volts AC, 3-16 Amps, Single-Phase, and 50-60 HZ.)
Sanitary (tri-clamp) fittings on all decontamination and supply and exhaust air ports.