CERTEK 500 Disinfectant, Disinfecting Kit, and Sprayers
CERTEK 500 Disinfectant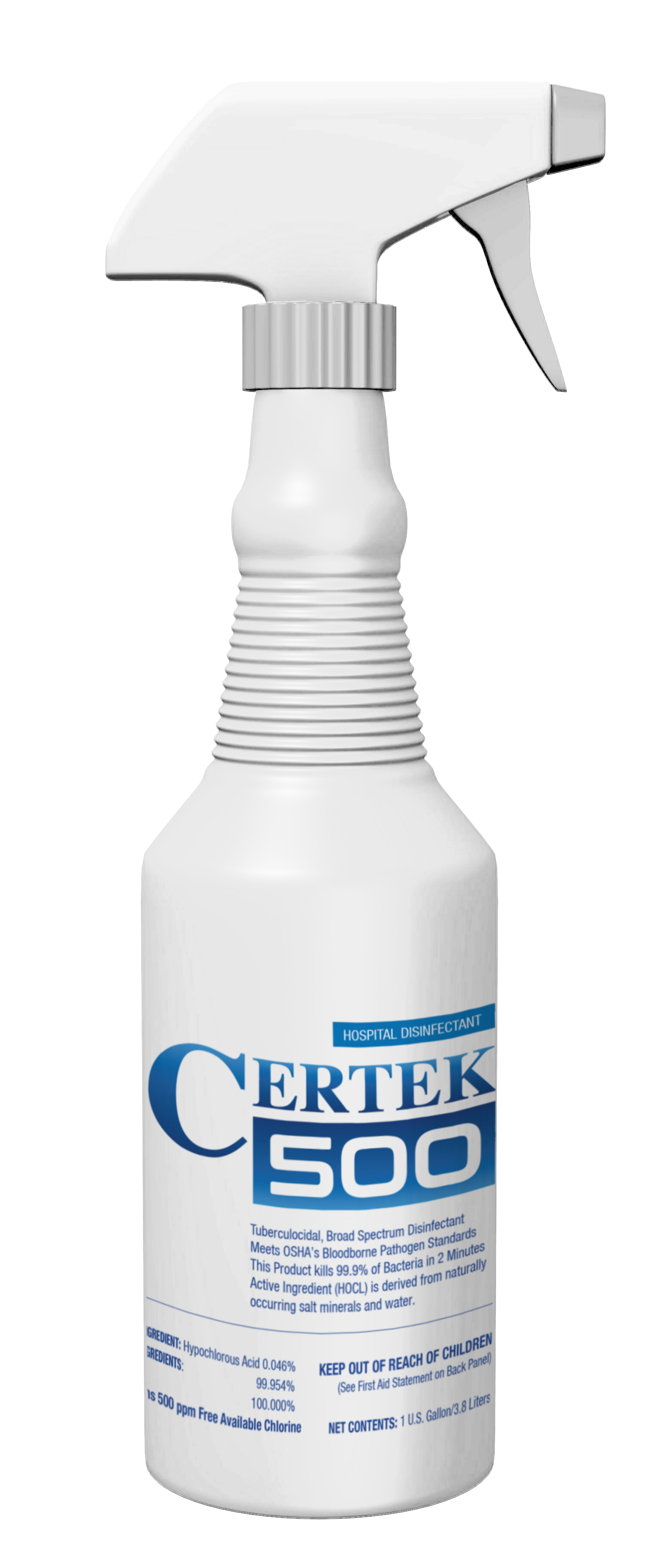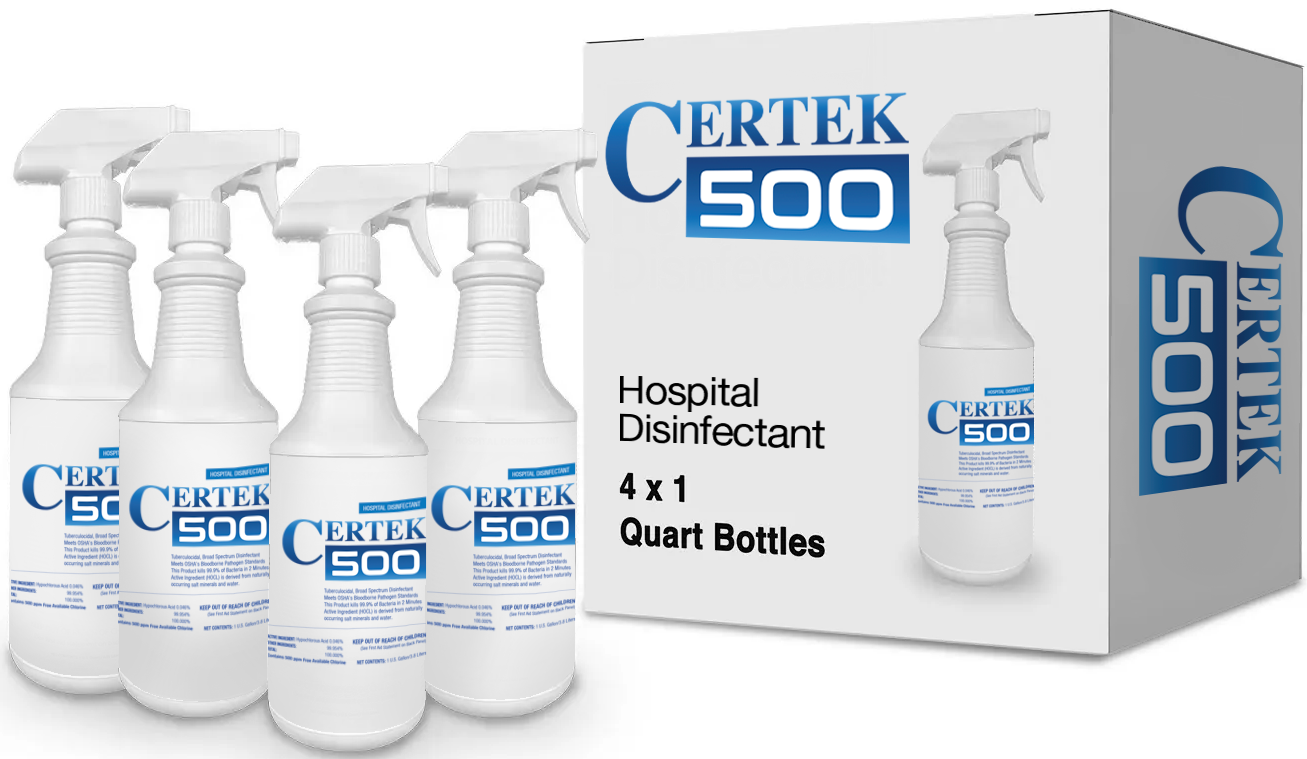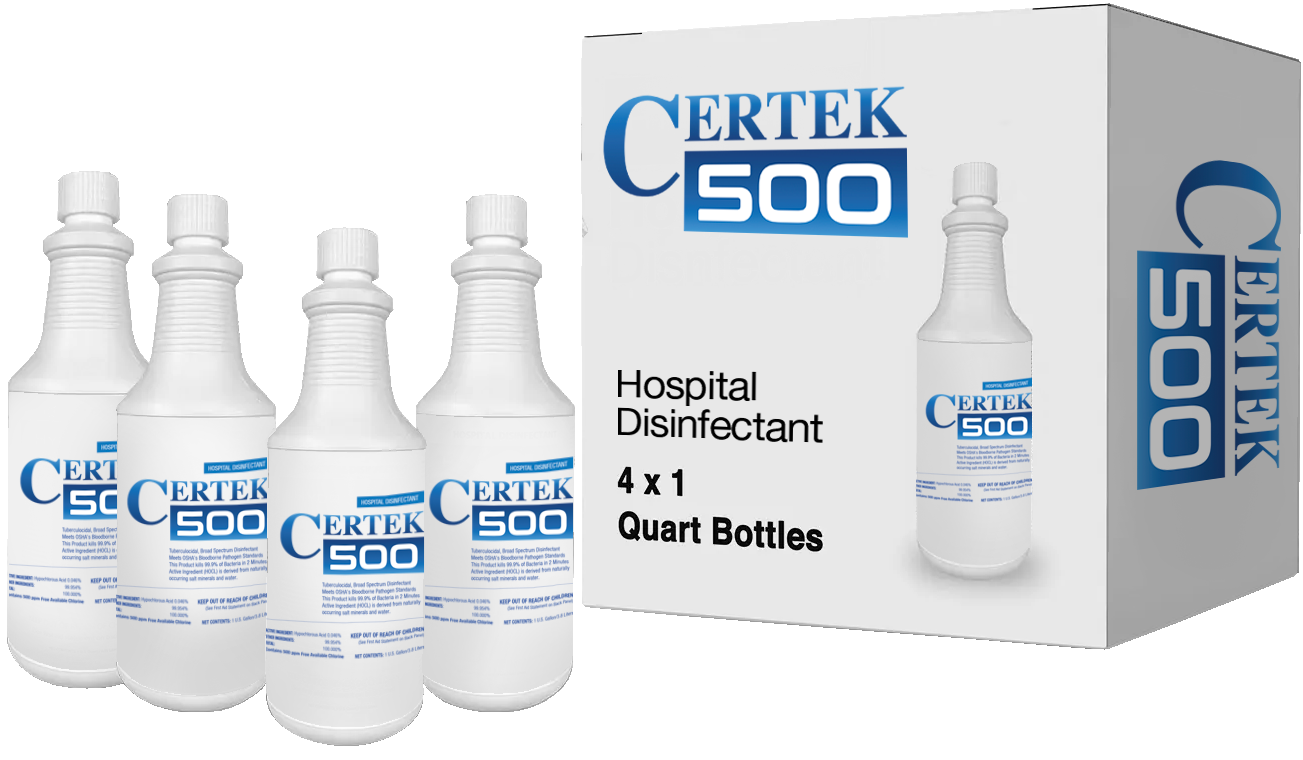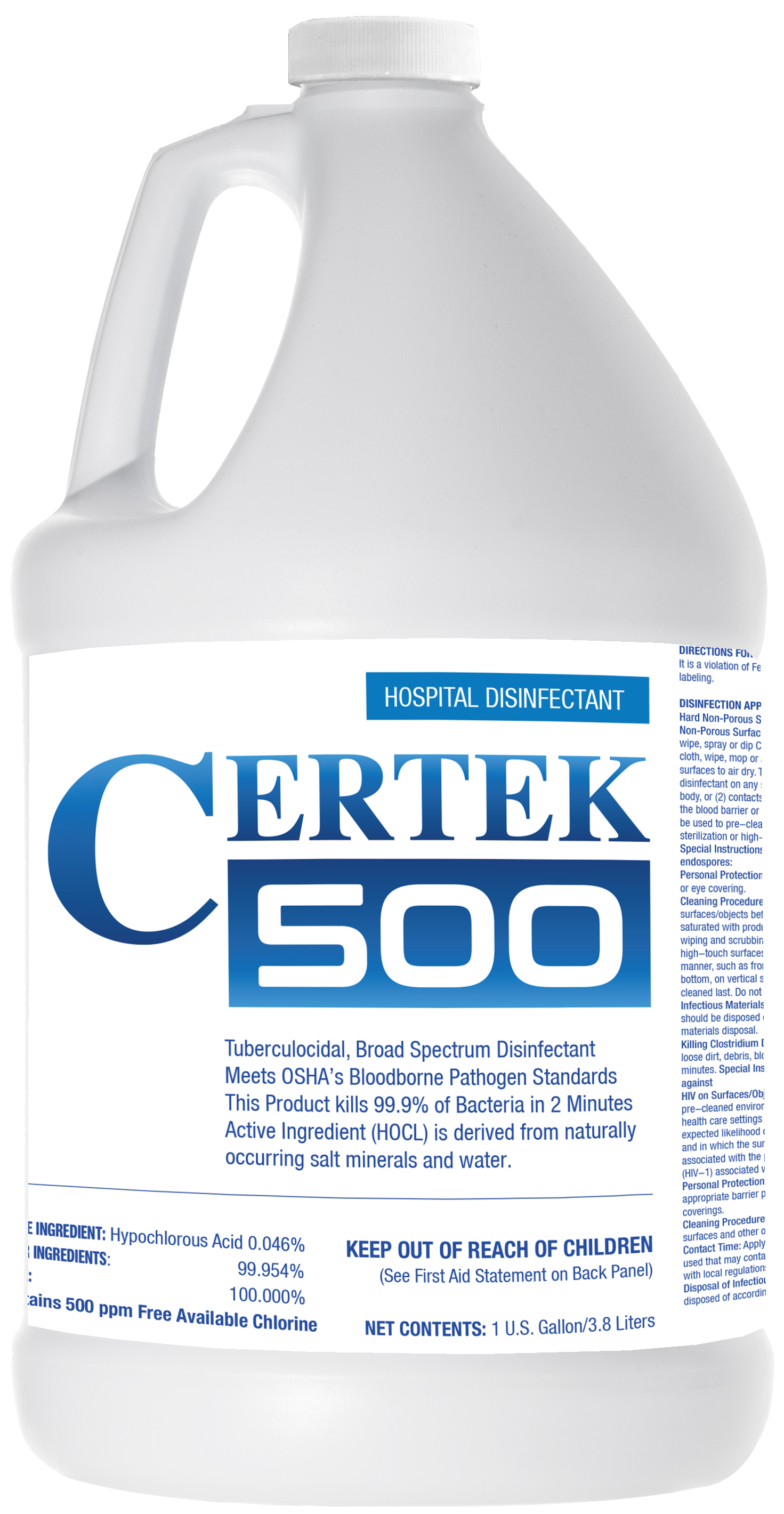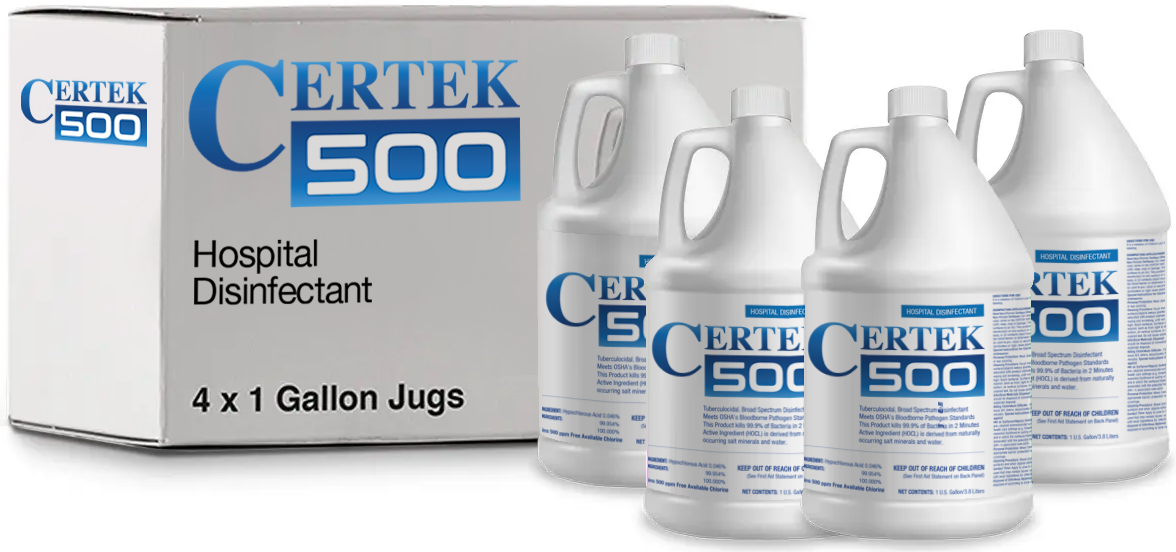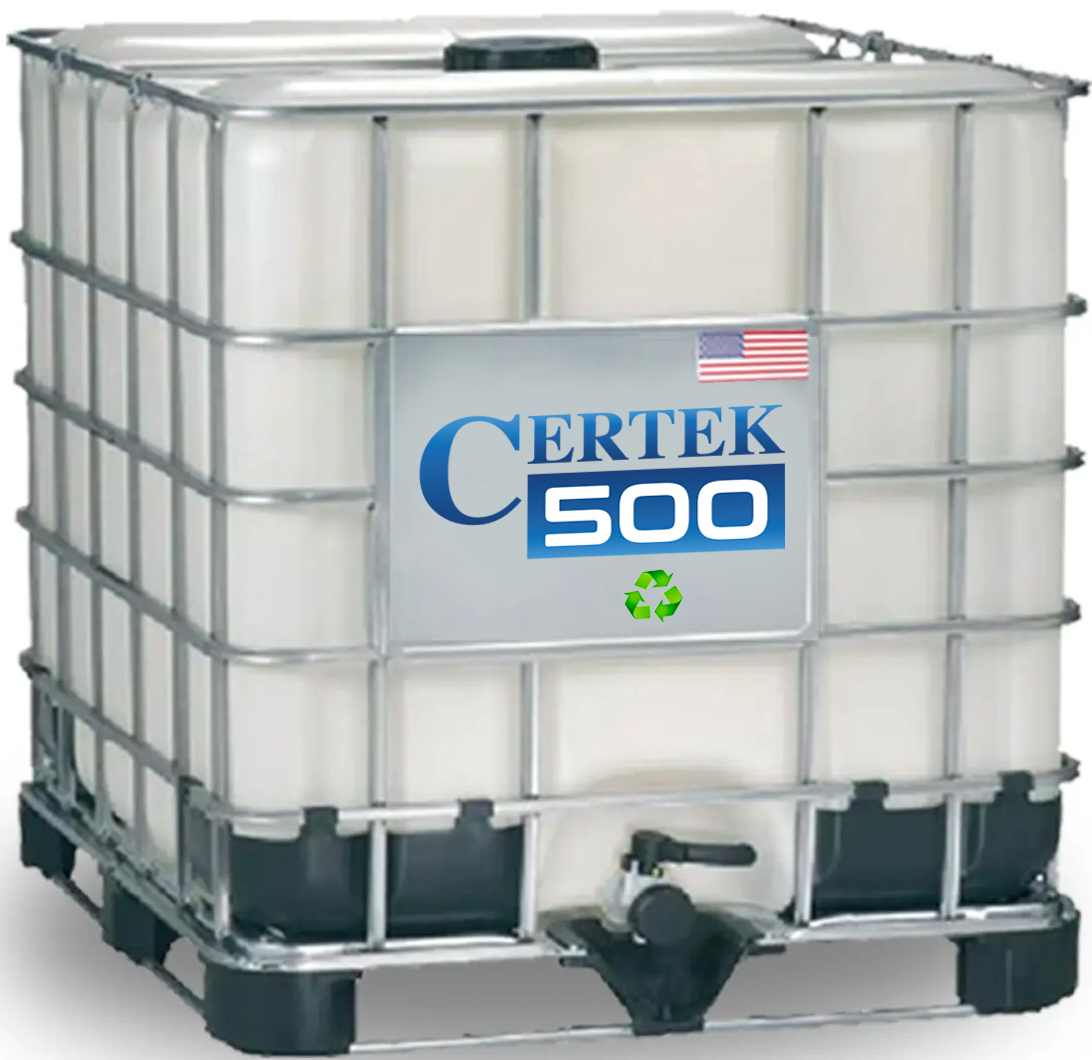 The CERTEK 500 disinfectant is available in several different volumes and quantities and will be shipped directly to you. Any volume or quantity can be purchased, however any volume or quantity is also available with a subscription to take the worry out of whether you will run out or not. Talk to a sales representative today!
The CERTEK 500 Disinfectant is EPA approved, eco-friendly, non-toxic, child and pet safe, safe to use on food surfaces, and does not leave a residue.
CERTEK 500 Information
Gas, Oil and Fracking
The Hospital Disinfectant that's Making Fracking Greener
A Review of the Effectiveness Against COVID-19
Testing, SDS, EPA N List and Label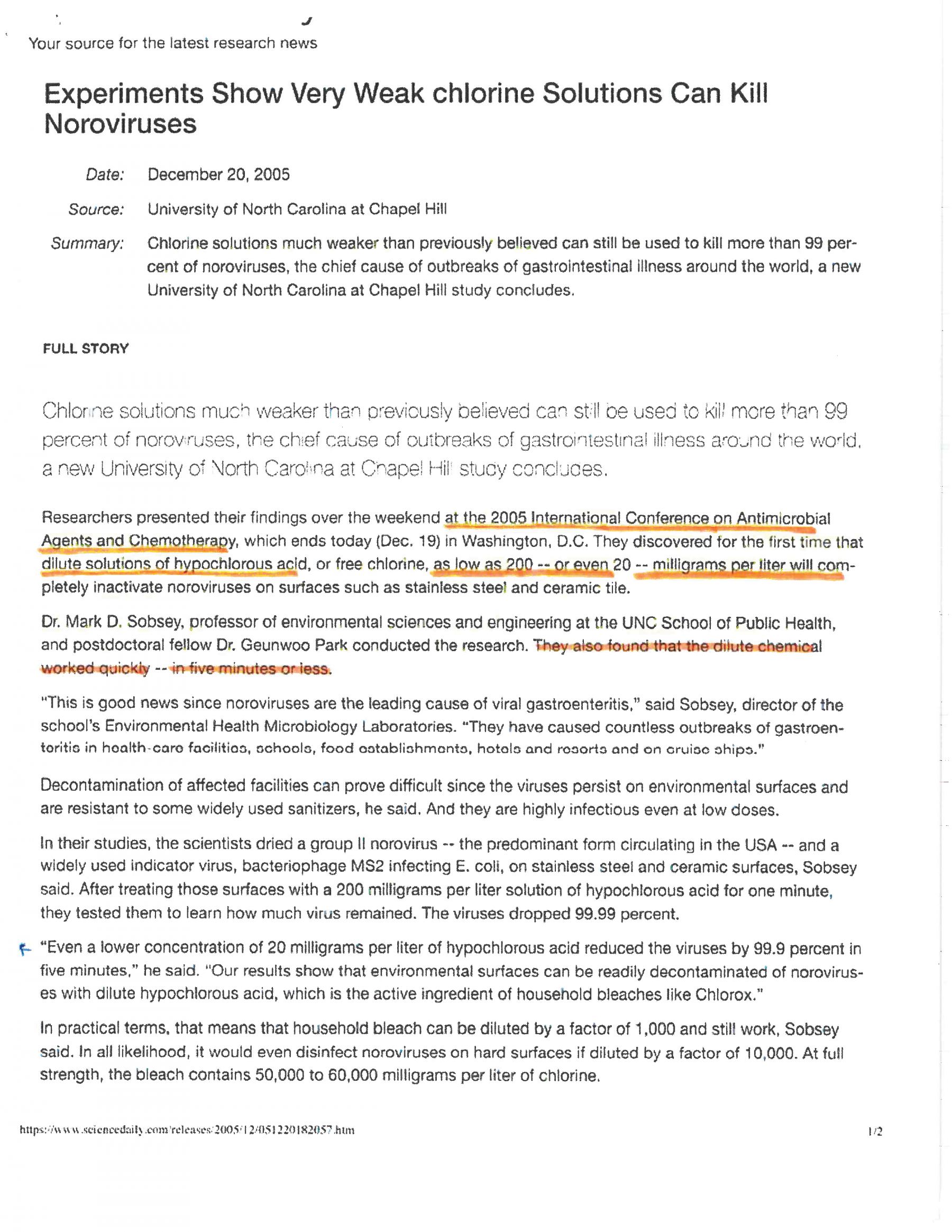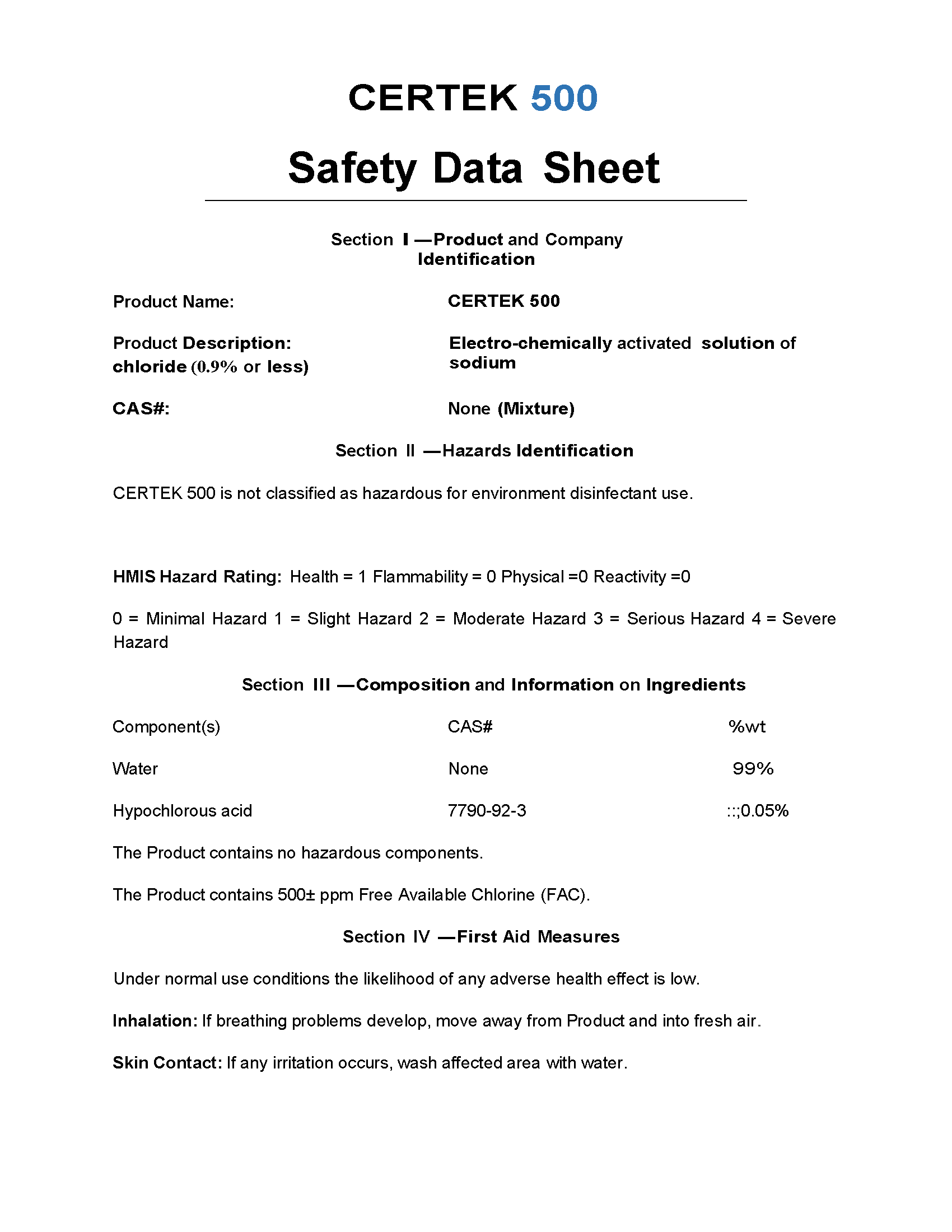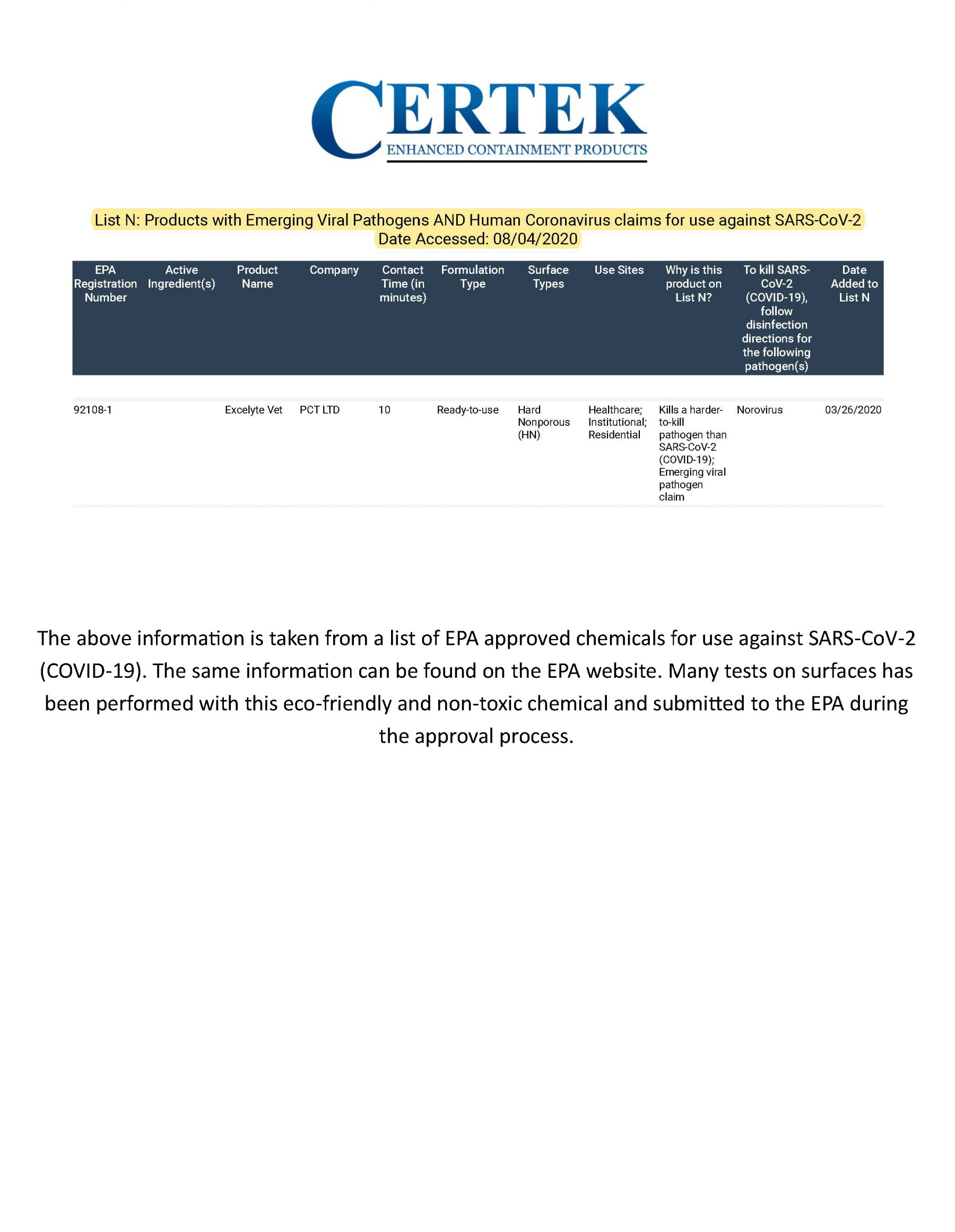 UNC Testing - SDS - EPA N List

Label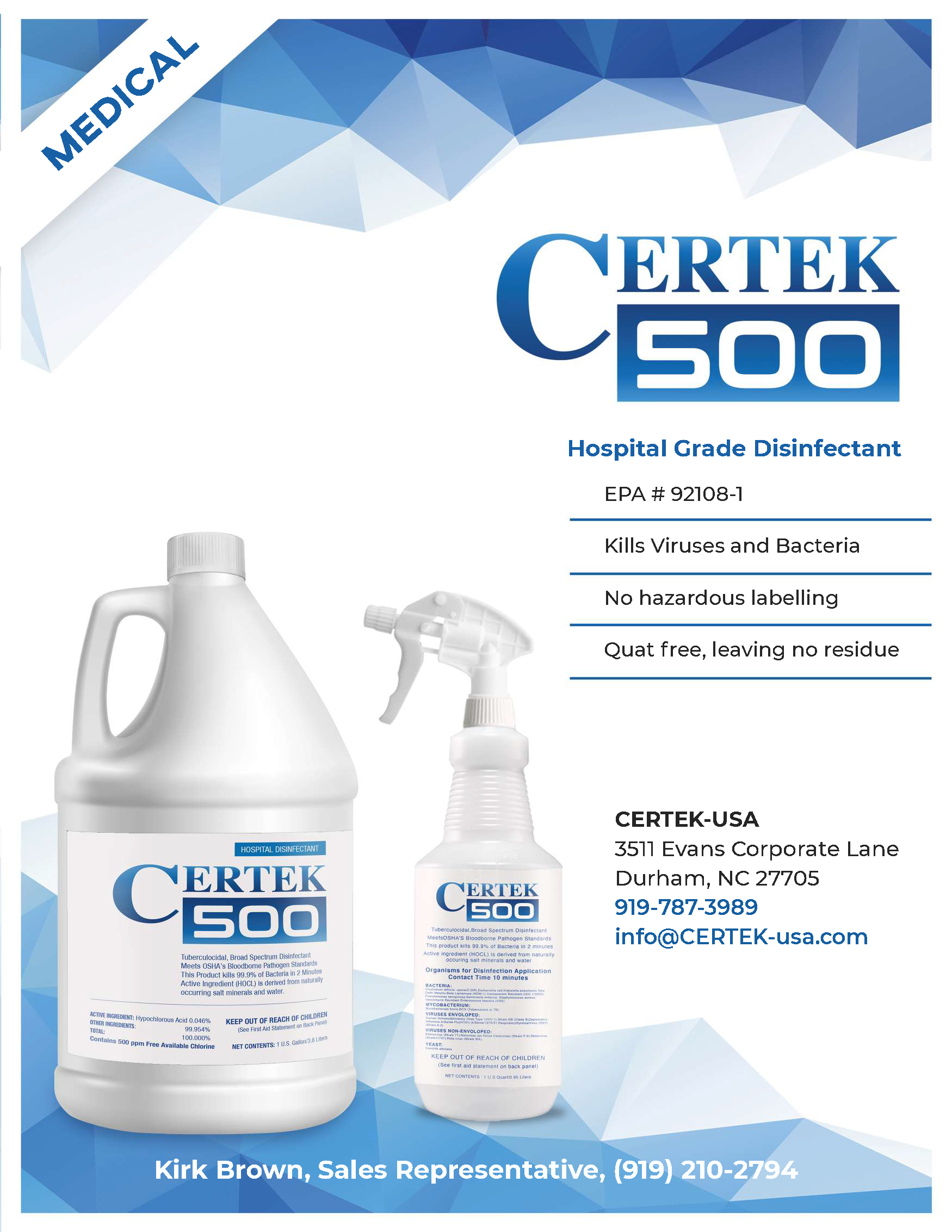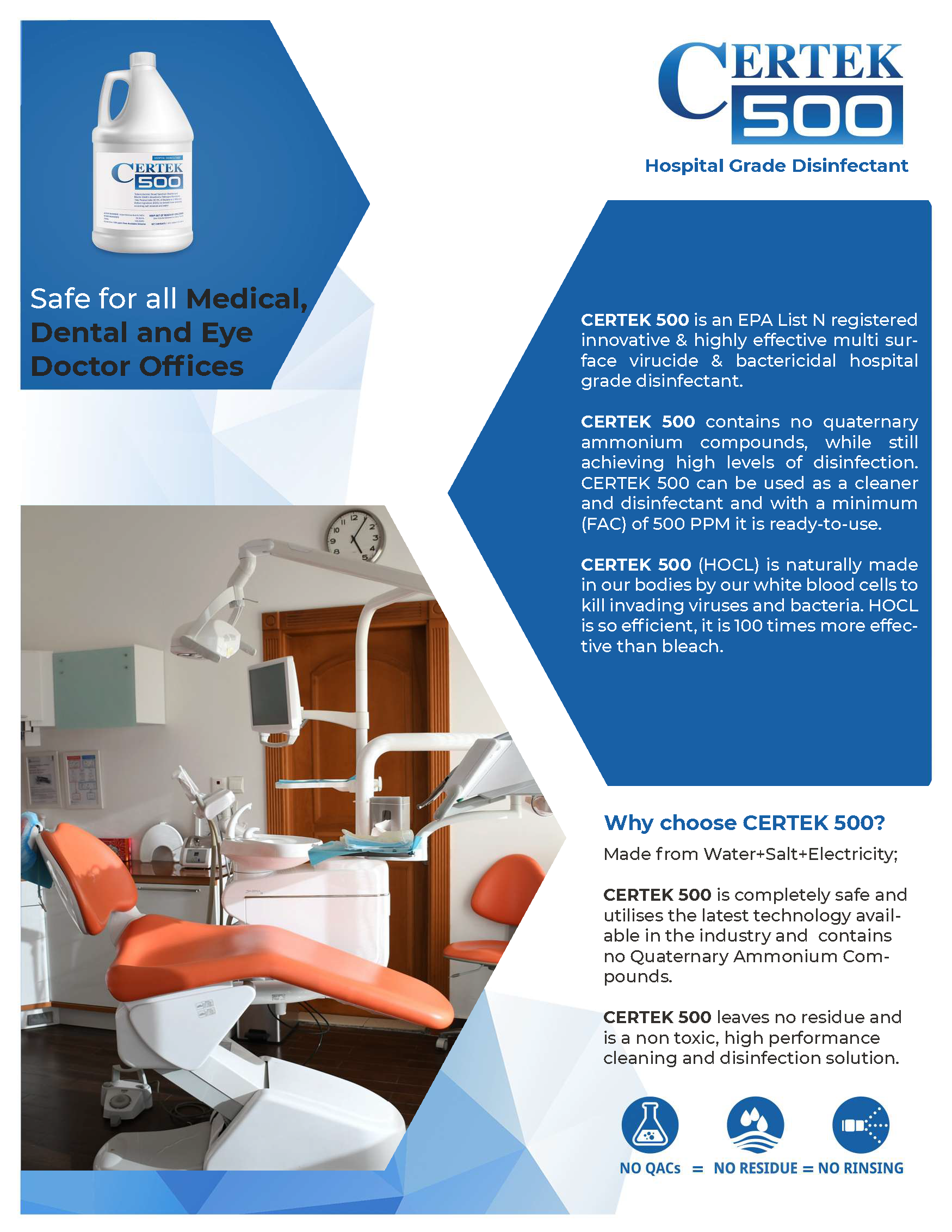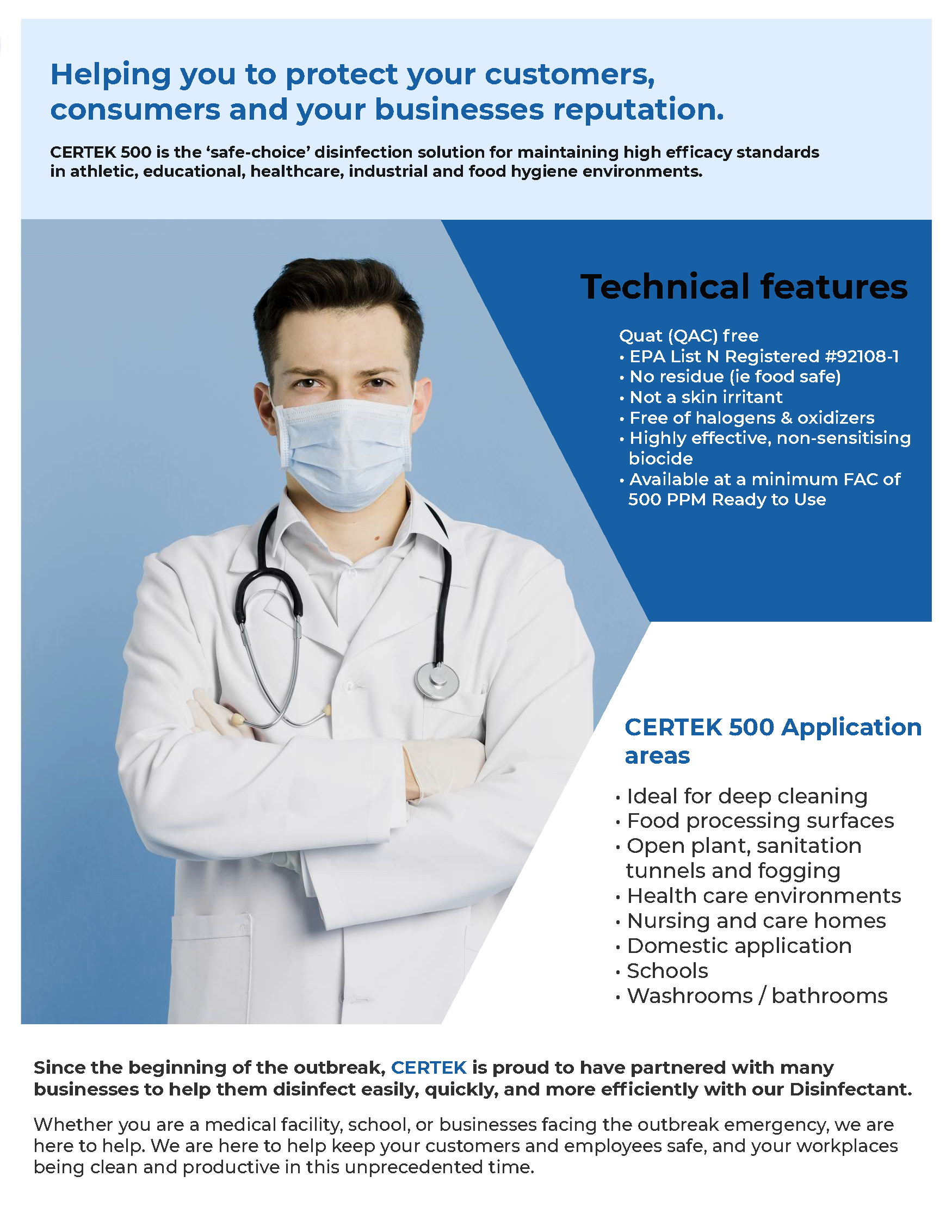 DFK - Disinfecting Kit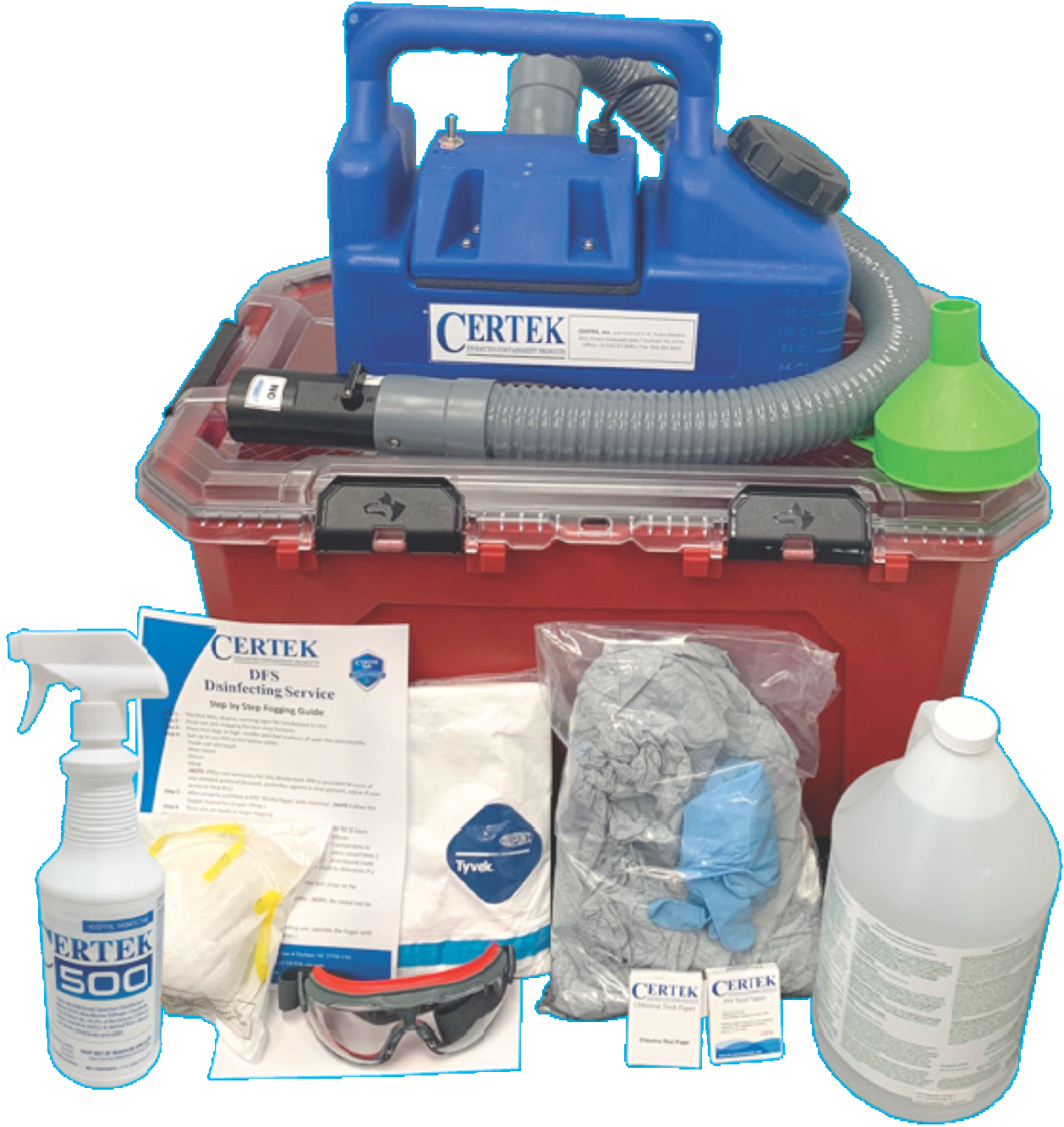 The Disinfecting Kit (DFK) comes with a 10 micron particle fogger, one gallon of CERTEK 500 Disinfectant, a quart spray bottle of CERTEK 500 Disinfectant, PPE* (goggles, gloves, shoe covers, Tyvek suit with a hood, and a N95 mask), a roll of pH test paper**, a roll of chlorine test paper**, documentation (reorder pricing sheet, protocol recommendations, and step-by-step guide), and a training video on a jump drive.
* PPE is not needed to use the disinfectant because it is non-toxic. The PPE is provided for your convenience and safety, because you may have to enter an area that may be contaminated.
** The pH and chlorine test paper are used to validate your applications of the disinfectant to let those entering the spaces you have disinfected know that it is safe. The validation process is explained in the training video.
Call us at (919) 787-3989 or email us at info@CERTEK-usa.com.
Sprayers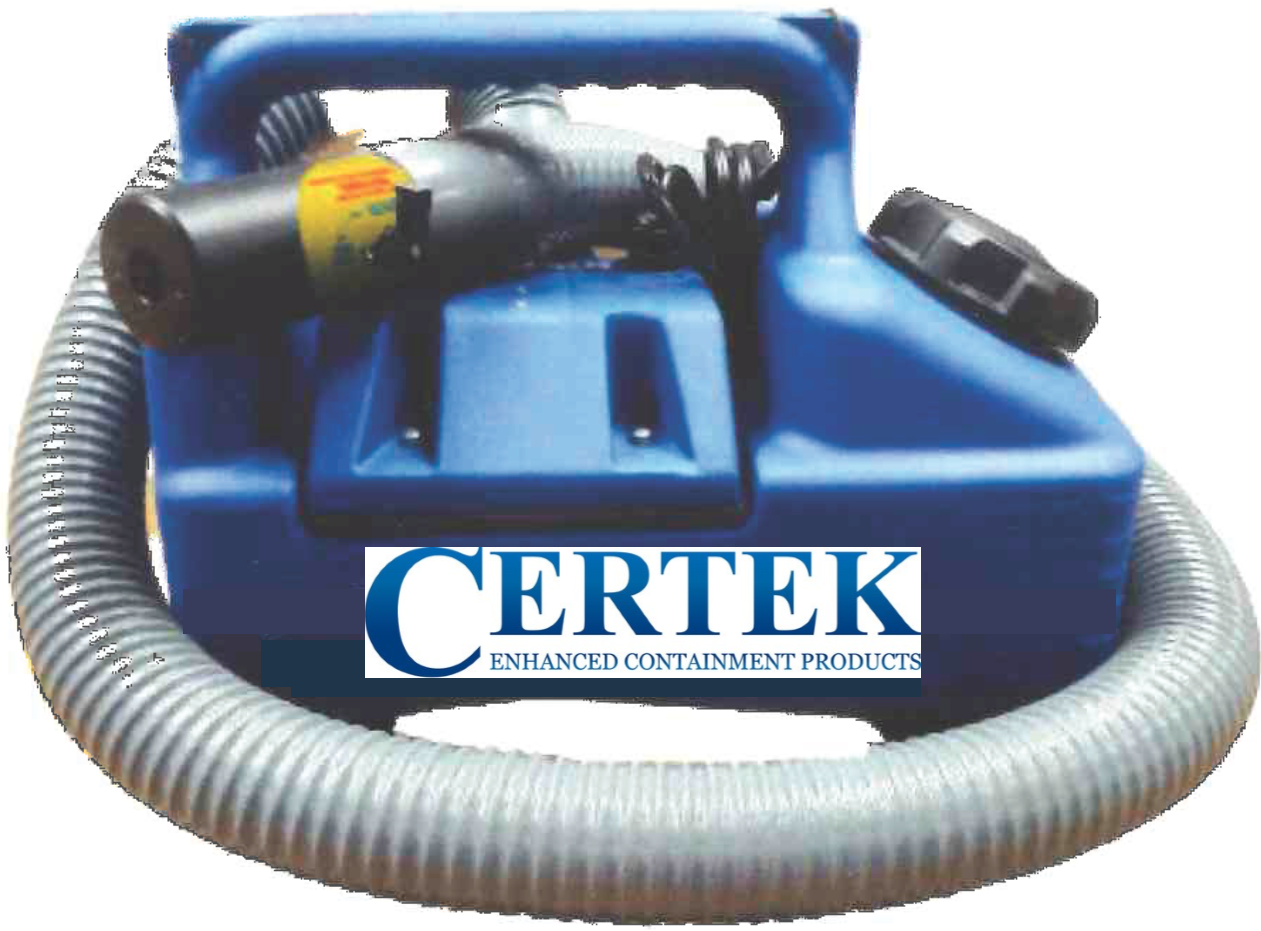 ULV 120V Electric Cold Fogger - Made in the USA
This fogger provides a well controlled cold mist from a stable low-slung, self-contained case with a plastic handle to provide ease of operation and electrical isolation. The fogger will disperse CERTEK 500 to decontaminate residential and commercial air systems, spaces, vehicles, and more. The ULV Cold Fogger is excellent to use for larger spaces such as church sanctuaries, warehouses, manufacturing facilities, and much more.
Features:
ULV – Ultra Low Volume
Adjustable Flow Nozzle 0-.115 GPM, 5-50 Microns
Chemically-resistant Viton seals
(1) One-Gallon Tanks
Lock-In-Place Nozzle Head
Holds Settings when machine is shut off
2 Spring-loaded valves, which only dispense product when depressed
Instant shut off when Valve is released. Only Fogger on the market that will not leak when turned off, without requiring the nozzle to be turned off
Motor Failure Safeguard (Secondary Check Valves to prevent backflow)
908 Watt High performance Motor
Large, easy to fill reservoirs
Stable base – Won't tip
6' Hose
Rotationally Molded Poly tanks and Motor Cover
Convenient handle allowing for balance with small or large amount of liquid in tank
Secure Storage Bracket for Nozzle Head
Power switch atop main housing
Hose storage bracket
Lighter than most standard foggers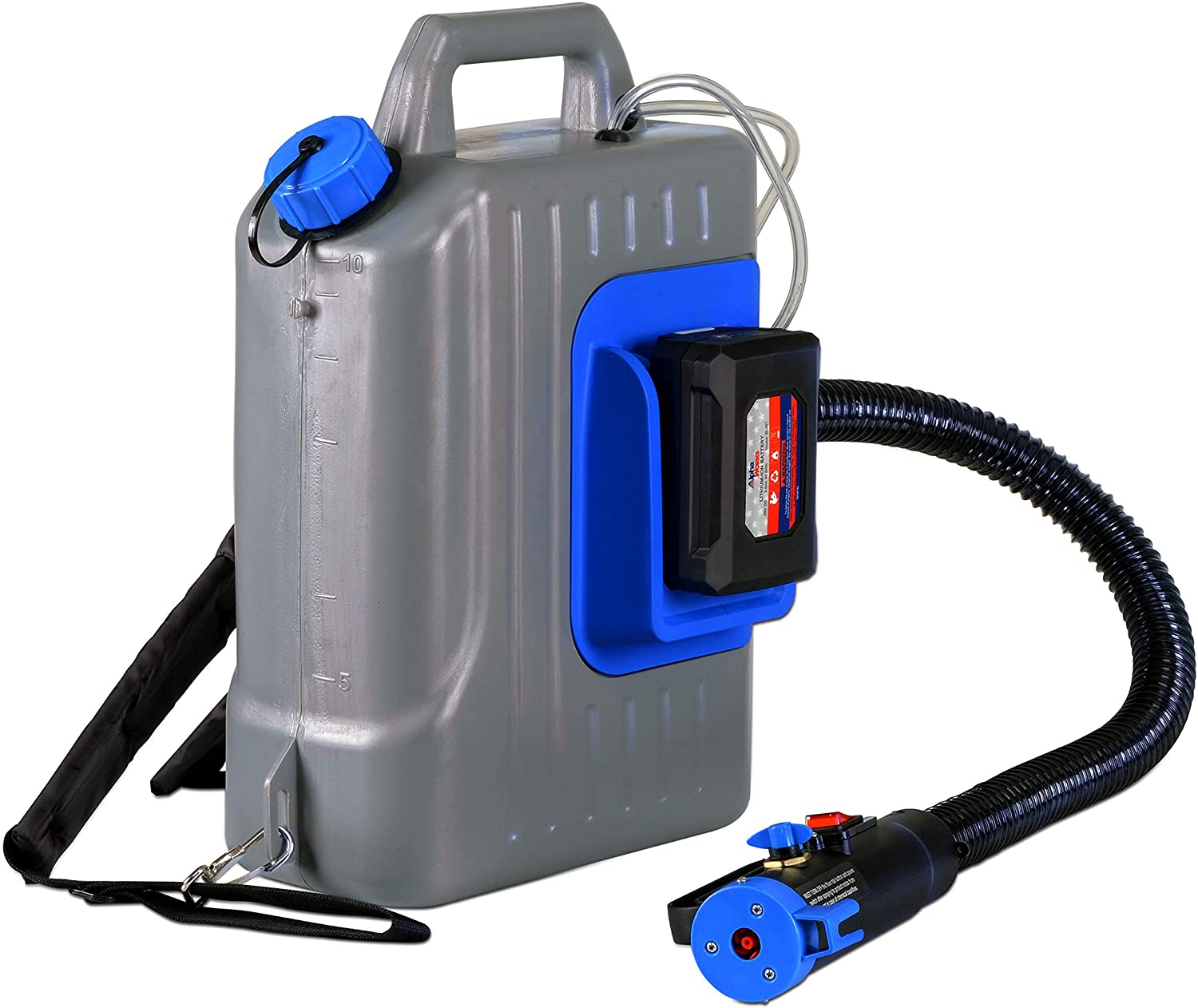 Disinfectant ULV Cordless Backpack Sprayer
Features:
48V DC Lithium-Ion Cordless Backpack Mist Duster Blower
2.6 Gallon 1-10 GPH
Adjustable Particle Size 0-50 um/Mm
16 Feet Horizontally
Super Heavy-Duty Durable Polypropylene Housing
750 (25.4 OZ) ML/Min.
2 HP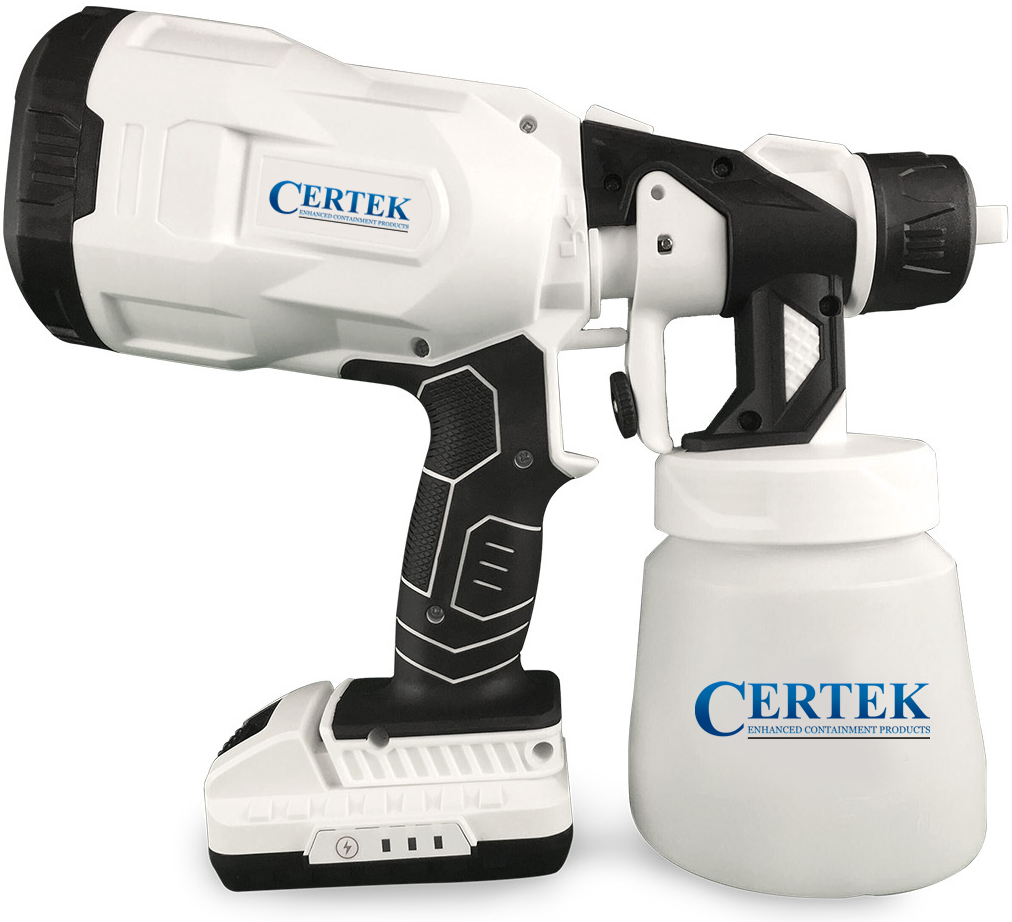 This multi-function sprayer is perfect for sterilizing viruses and applying a consistent full coverage to almost any surface. Covers most surfaces in a home, office, vehicle, and more in seconds to minutes depending upon area.
Features:
Rate voltage: 18v dc

Battery capacity: 2000mah li-ion x2

Rated power: 120w

Copper nozzle size: 1.0mm, 1.8mm,

2.5mm

Container: 800ml (1.69pts)

Motor speed: 30000/min

Weight: 1.5kg(3.3lbs)