Decontamination Service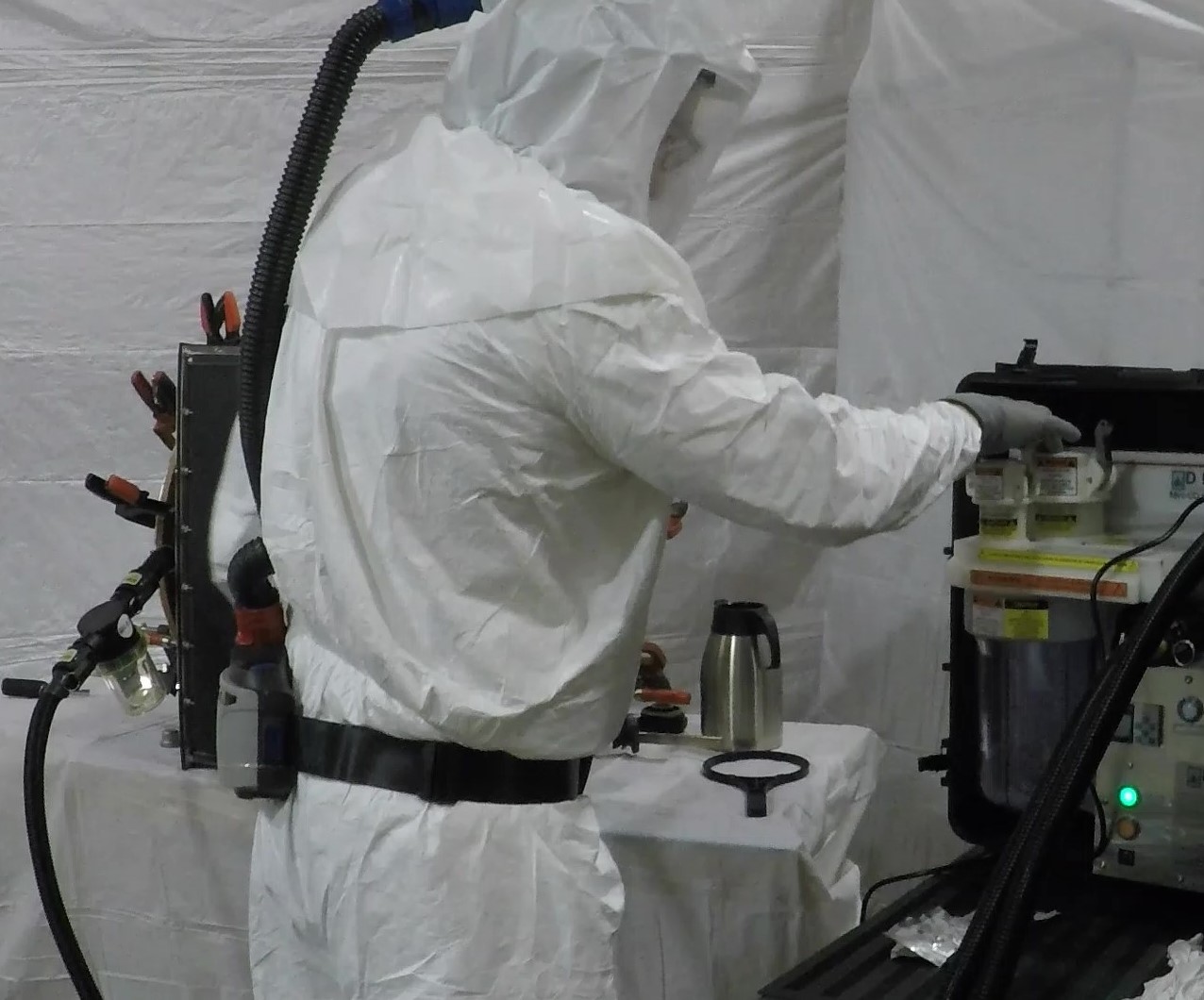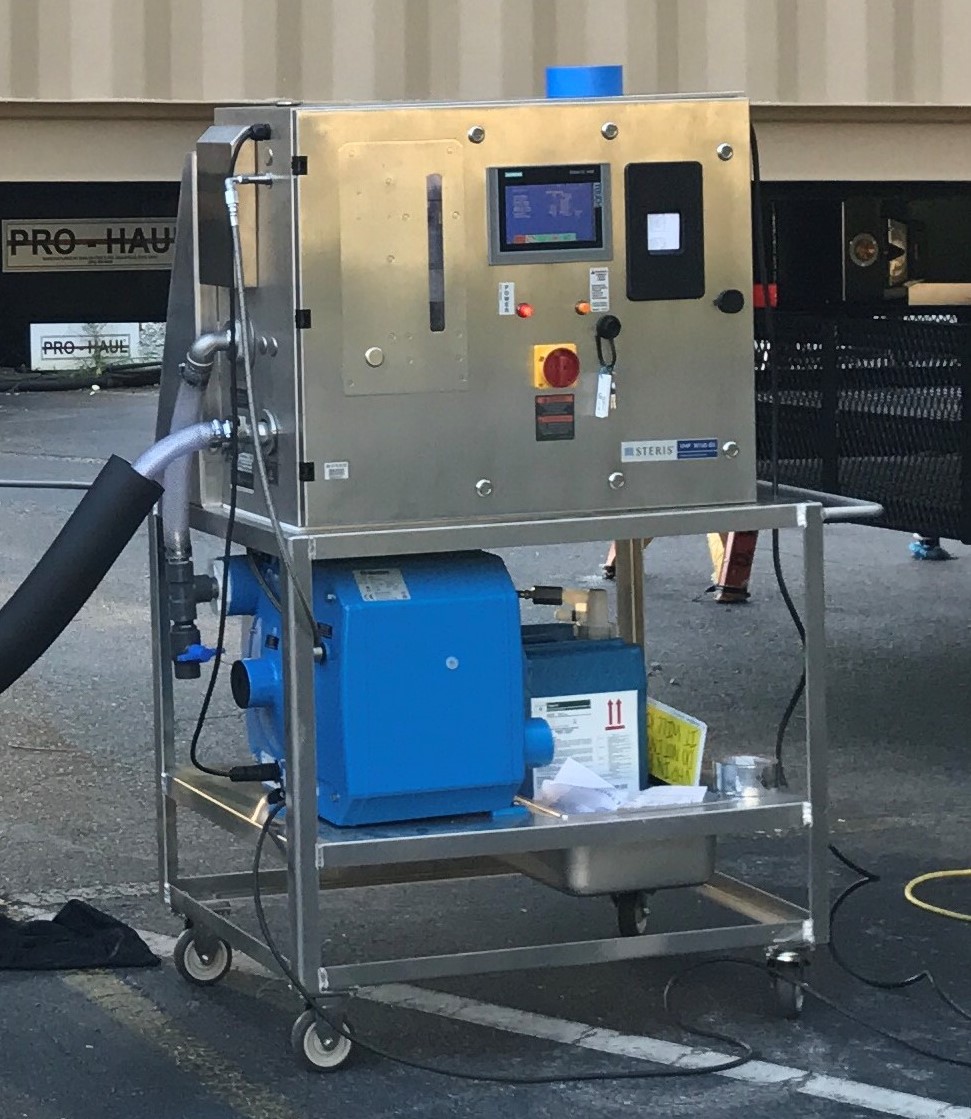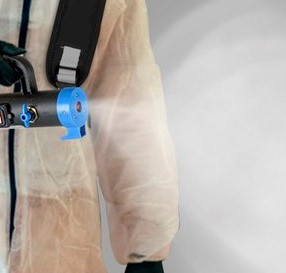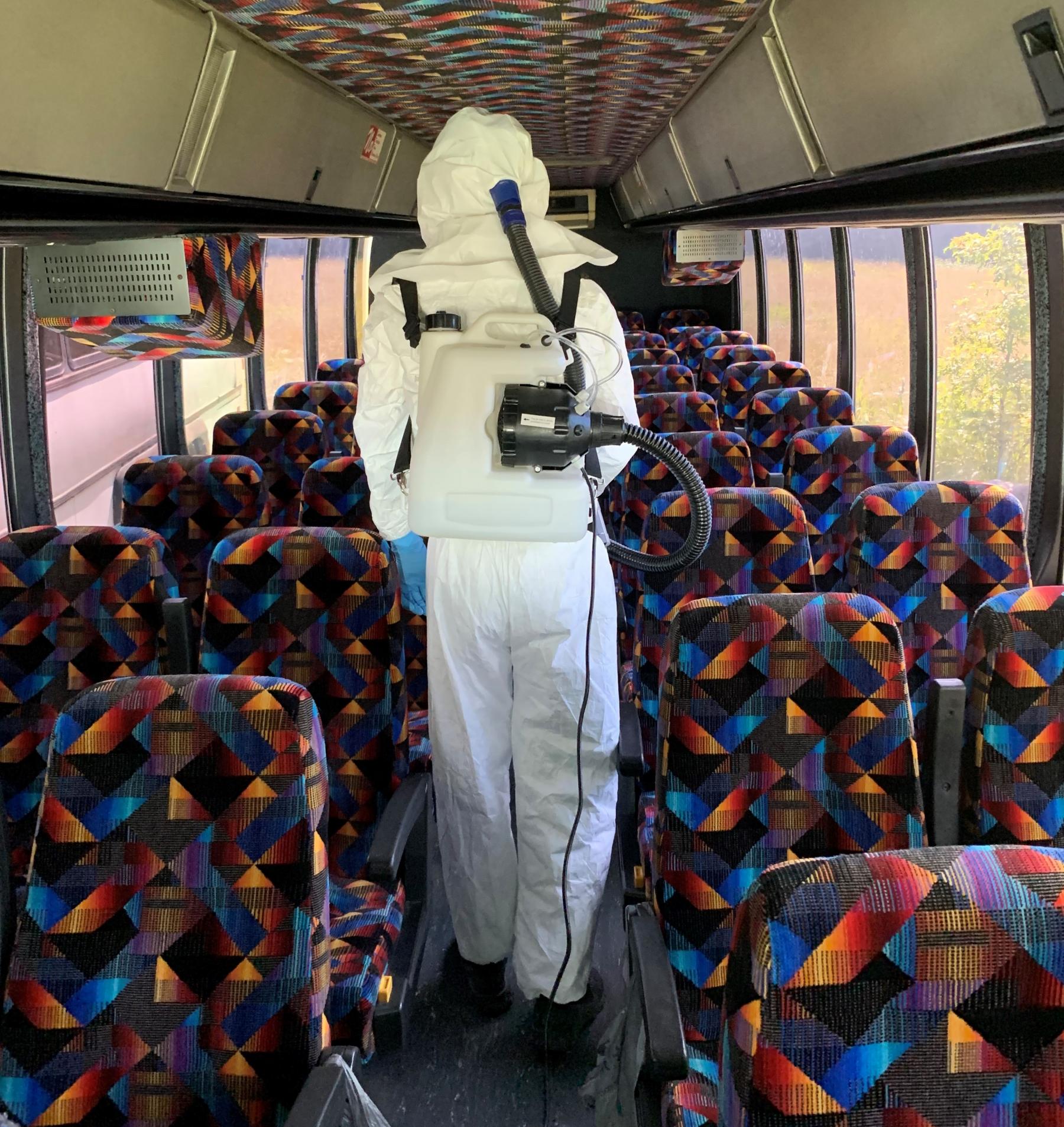 DCS - Decontamination Service
Ridding your facility of harmful chemicals and pathogens is made even easier when you allow us to perform your decontamination processes by utilizing our Decontamination Service (DCS). This effective service is performed efficiently by National Sanitation Foundation (NSF) certified personnel.
CERTEK provides a method for decontamination of individual High Efficiency Particulate Air (HEPA) filters and HEPA filter banks, Class I and Class II type A1, A2, B1, and B2 Biological Safety Cabinets (BSC), Class III Gloveboxes (GB), spaces, and other devices such as negative/positive pressure isolators, animal devices, incubators, refrigerators, and freezers using chlorine dioxide (CD) gas or vaporized hydrogen peroxide (VHP).
The process of decontamination is as follows: a humidity source, humidity meter, and biological indicator (optional) are placed in-line or within the filter, BSC, space, or other device to be decontaminated. The filter, BSC, space, or other device is then sealed with a gas inlet and outlet port incorporated into the seal for use with a CD or VHP machine. After the appropriate level of humidity has been achieved, CD or VHP is produced and released, beginning the decontamination cycle. After exposure for 90 minutes for CD or the developed cycle time for VHP, CD gas or VHP is removed from the filter, BSC, space or other device by using the scrubbing cycle of the CD machine or the aeration phase of the VHP machine. After approximately 45 minutes for CD or the developed aeration phase of the VHP cycle, the CD or VHP machine is disengaged and the filter, BSC, space, or other device may be unsealed.
SOP's and all safety protocols are followed in the process. As part of the service, validation documentation is completed and submitted for customer satisfaction.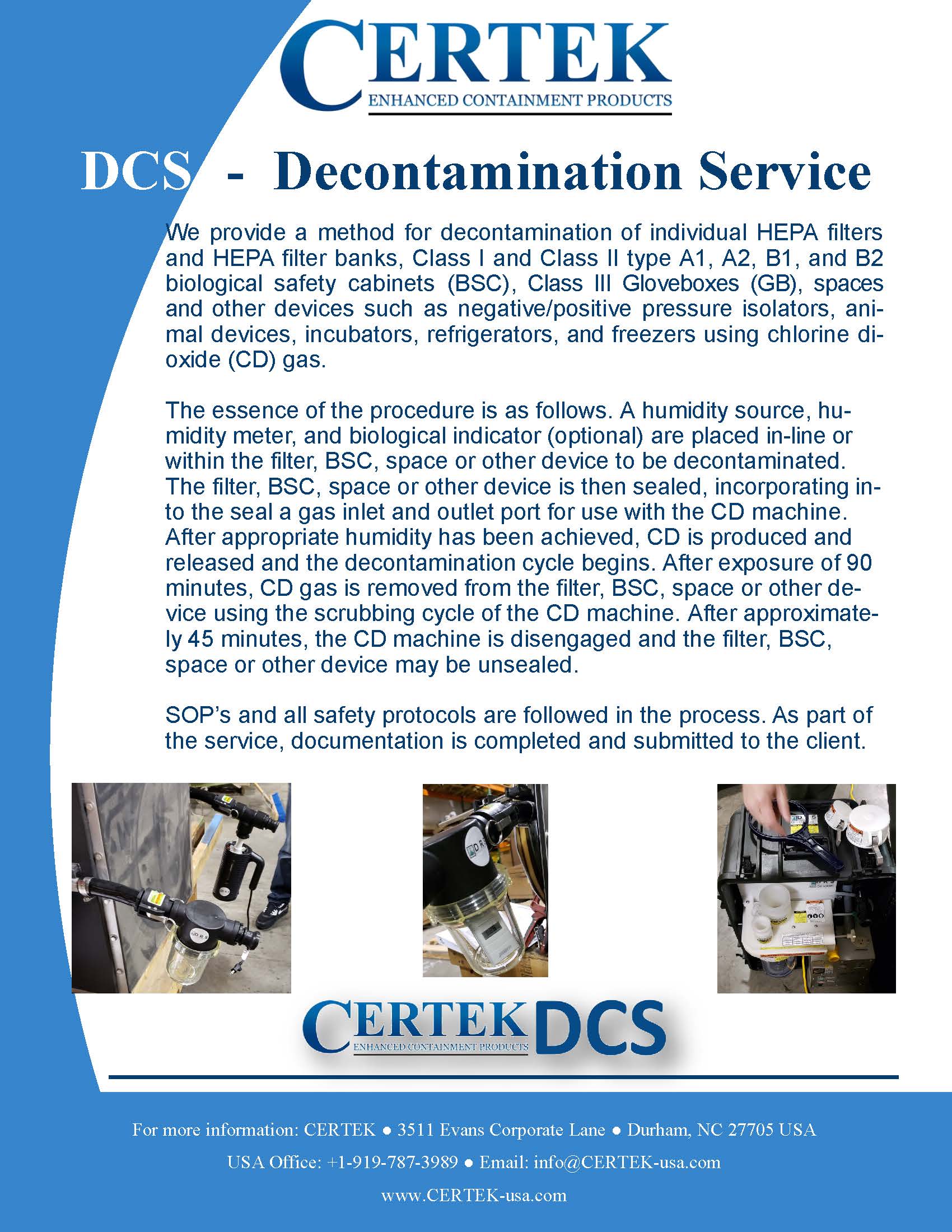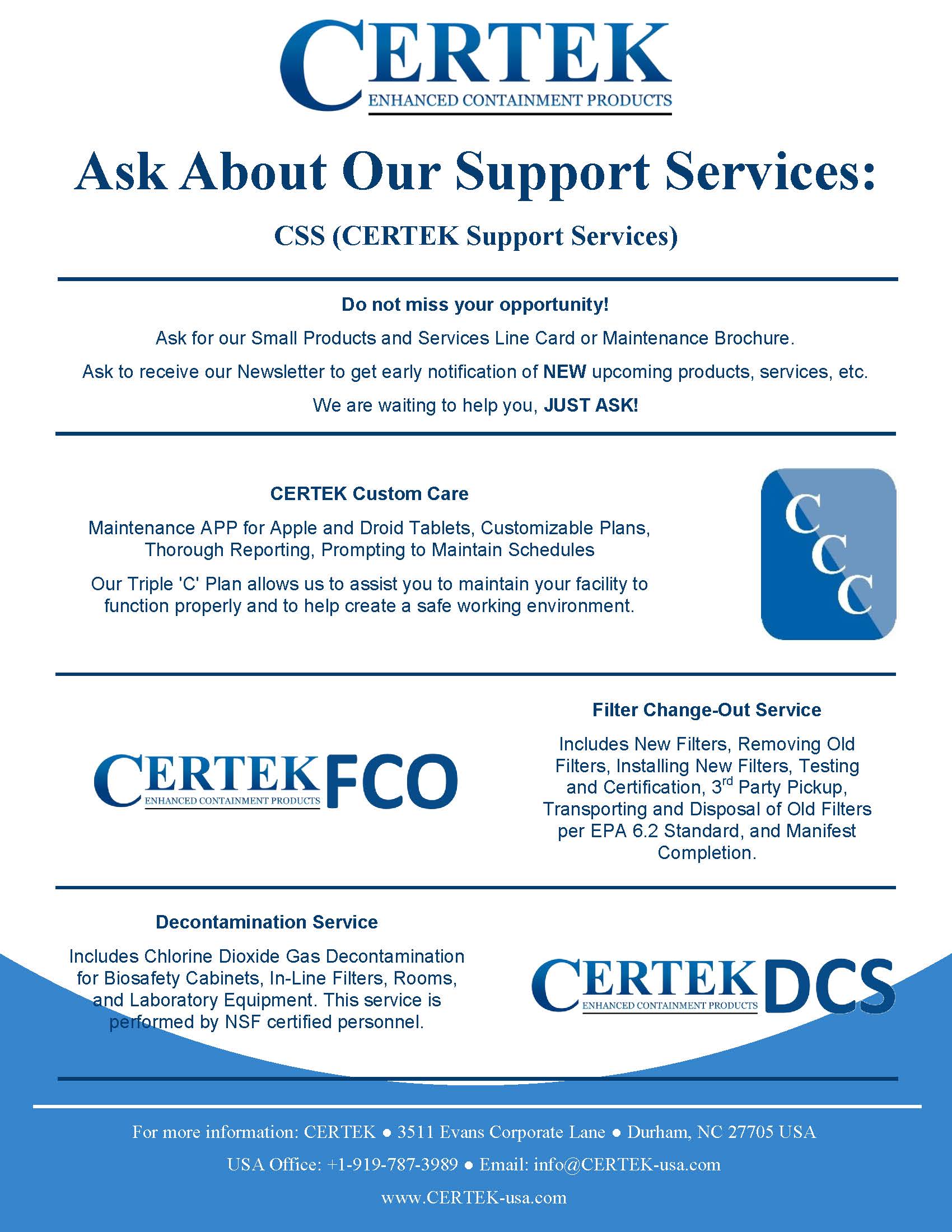 DCDFS - Decontamination and Disinfectant Fogging Service
In these times of uncertainty, it can be uncomfortable not knowing what might be lurking around you, especially in businesses, schools, and other public areas. CERTEK offers services that can add to your comfort level and offer you peace of mind. The COVID-19 pandemic has resulted in health and economic concerns, causing discomfort for many. New challenges are arising as states begin to relax or tighten their restrictions and especially, when they begin to move into various phases of reopening. CERTEK is here for you and would like to help you return to some level of normalcy.
We provide several methods for decontaminating and disinfecting spaces safely and effectively using only EPA-registered chemicals. We also follow EPA recommendations that allow for the proper contact time to disinfect surfaces for known pathogens, including COVID-19 (SARS-CoV-2). Surfaces should be visibly wet for the specified time to ensure the contact time has been reached for proper decontaminating or disinfecting. We validate the process by using Concentration Test Strips (CTS) to verify proper saturation and document contact time for satisfactory kills.
Any service is only as good as the testing performed to validate that service. Whether we perform a full decontamination or a basic disinfecting service, the process is always validated with testing reports. A certificate of validation is also issued to our clients. We strive to not only please our clients, but also to offer them a sense of security that they have received a service as advertised and that has been fully validated.
Let CERTEK prove its experience to you. We will assess your space and recommend the service that will give you an optimum sense of comfort and safety. Our technicians are professional and experienced in decontaminating many different types of spaces, including government and military facilities. Once the service has been completed you will receive a certificate of validation that you can display, providing reassurance to those who enter your place of business or public area. We are here to serve you safely and to leave you feeling secure.